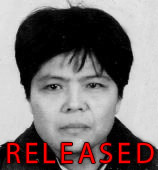 Praise God for Li's early release!
Journalist and Christian activist Li Ying was released from prison in China on December 25, 2011, almost five years before the end of her 15-year sentence. During her time in prison, she was reportedly forced to work 15 hours a day on products for export. Her visits with her family were also strictly limited, and she was not allowed to have a Bible.
Li was arrested in April 2001 for her work on an underground Christian magazine. In December 2001, Li was one of 17 South China Church leaders who were convicted of "using a cult to undermine enforcement of the law," five of whom were sentenced to death. Li was one of them, but as a result of the ensuing international outcry a higher court revoked the death sentences in September 2002, citing lack of clarity about certain facts and insufficient evidence. The case was retried in October 2002. Instead of the crime of "using a cult," the five who had been condemned to death were convicted instead of "intentional assault" (for more information, click here).
China Aid Association founder and president, Bob Fu, spoke with Li on February 10. Li is very grateful for the support she received from around the world. She told Fu that she was aware of the many letters she had received but that authorities never let her see the letters.
Thank the Lord for this wonderful answer to prayer! Ask Him to restore Li physically and emotionally. Pray that she will draw ever closer to Him as she comes to terms with her new life outside prison walls. Pray for the many Christian believers currently in prison for their faith.
To learn more about the persecuted Church in China, please visit the China Country Report.