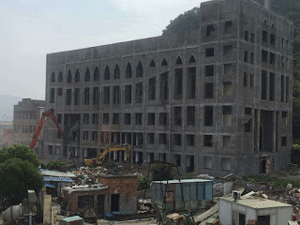 The demolition of Yanxia Church
began on June 8, 2015.
Photo: China Aid
A government demolition programme targeting churches continues to take place in coastal Zhejiang province, with the recent destruction of a new megachurch. Yanxia Church, a state-recognized church in Wenling city, was pulled down soon after its completion, reportedly to make way for a new road. Governing officials state that the church's leaders had agreed to a compensation deal, although investigative reports indicate they were pressured into an agreement.
Elsewhere in the province, a Christian named Zhao Lizhong has been missing since his detainment on May 9th for defending Pingyuan Church's cross. To date, more than 425 churches have been affected by the local government's ongoing "Three Rectifications and One Demolition" persecution campaign.
Meanwhile, in Guiyang, Guizhou province, a house church was raided twice within a two-week period. Eleven Christians were detained during a raid on May 24. When other members sought advice from their lawyer, they too were detained and beaten. All have since been released. (More reports on persecution in China can be found at VOMC's Country Report.)
Please pray for an end to the campaign of the Zhejiang provincial government to target evangelical churches. Ask the Lord to strengthen and encourage the numerous believers who've been affected by this campaign, especially those whose churches have been utterly demolished. May the congregations of this province -- and all across China -- be likened to "a town built on a hill" that's shining so brightly, its light cannot be hidden (Matthew 5:14).