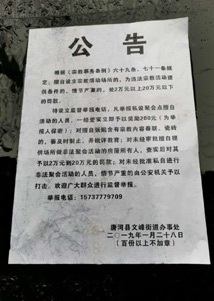 A government office in Henan province announced on January 28th that a hotline has been established to report "illegal religious activities." The announcement from the Wenfeng Street Community Office promised confidentiality and offered cash rewards.
The announcement also threatened fines of up to $39,000 CAD for homeowners who allowed a religious gathering on their property, as well as other severe penalties. The public was encouraged to "aggressively monitor" their community members for such violations.
Pray that China's Christians will continue faithfully serving within their community as vibrant testimonies of God's love and the many blessings found in Him. Rather than this new hotline being used as a means of suppressing or thwarting the work of the Gospel, may there be increased opportunities for the country's believers to share the Christian faith among their spiritually receptive neighbours. Also intercede for those opposing the Gospel, that they themselves will experience the new-found hope and joy of God's transformative power through Jesus in their lives as well!