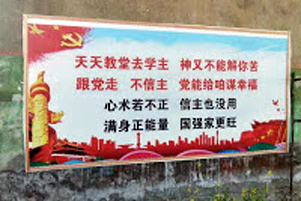 As opposition to Christianity grows throughout China, churches in rural areas in particular are experiencing rapid growth. One Christian stated that "people are joining churches by the whole village, one village after another." When asked why, the believer said one factor is that limited financial resources force people to rely on God in their everyday lives.
To counteract the growing impact of the church, the Chinese government is using a variety of tools. In some areas, billboards have been erected in attempts to persuade people away from faith in God. The billboard pictured here reads, "If you go to church every day to learn about the Lord, God still cannot relieve your hardships. Follow the Party and don't believe in God. The Party can give happiness to all. If your heart is not right, believing in the Lord is useless. Go get more positive energy so that our country will be powerful and families thrive."
Throughout the country, churches have been shut down. A small rural church in the mountainous area of Bijie was completely emptied and the cross had been torn from the church's roof. Because videos of the incident were posted on the government-controlled social media platform WeChat, church members fear to discuss the incident further.
In Fujian province, officials informed Pastor Yang Xibo of the Xunsiding Church on May 11th that they intended to shut it down. The next day, government departments accessed video footage from the church's entrance and, using facial recognition software, identified those attending. Church members were then contacted at their places of employment with threats of being fired unless they pledged to no longer attend. On Sunday, May 19th, SWAT teams, along with 70 other officers, raided the church. Police were stationed outside to prevent anyone from entering and remained on site in the following days to enforce the official closure.
Please remember the many Christians throughout China who are facing overt persecution, as well as those encountering more subtle forms of pressure. Pray for the needed encouragement of believers who now have no place to gather together for worship. May the message of God's grace and love continue to spread, so others searching for spiritual truth can come to faith in Christ. Ask the Lord to also work mightily in the hearts of the officials who are opposing the message of the cross, revealing to them their need for eternal salvation and the numerous added provisions He has made available as a result.