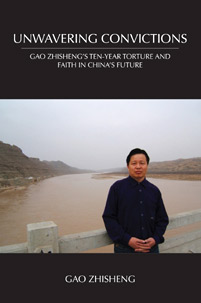 Gao Zhisheng, a prominent human rights lawyer, has personally experienced persecution for many years. The Voice of the Martyrs Canada has been reporting on Gao's case since his initial arrest in 2006. Since then, he has been released and re-arrested numerous times, often disappearing to undisclosed locations at the hands of the authorities.
When Gao had gone missing on August 13th, 2017, family and friends had assumed he had been apprehended by the authorities again. Yet, in reality, two of his supporters had smuggled him out of the province in an attempt to free him from house arrest and keep him safe. After three weeks of intensive searching, the authorities managed to locate him, and Gao has not been seen nor heard from since. There have been rumours of his location, but no one was able to verify them.
Chinese law dictates that it is illegal to detain a prisoner for more than six months without a charge. Yet, over the past two years, Gao has been unable to consult with lawyers, and his loved ones still do not know where he is being held.
In the time leading up to his latest disappearance, Gao secretly penned a book describing his sufferings. In the book, the human rights lawyer reveals how he came to faith while being imprisoned for defending Pastor Cai Zhuohua back in 2004 and 2005. His book, Unwavering Convictions, which was smuggled out of China and translated into English, is now available for purchase.
May God's Spirit continue to wonderfully minister to Gao, wherever he may be located. May this imprisoned believer know with full assurance that his Heavenly Father's "everlasting arms" are supporting him (Deuteronomy 33:27) and that many fellow believers are praying for his eventual release. Lift up in prayer Gao's family and friends as they struggle with the resulting pain and uncertainty of his undisclosed location. Additionally, pray that God will mightily intervene not only on behalf of Gao, but for all of China's other persecuted and incarcerated Christians as well.