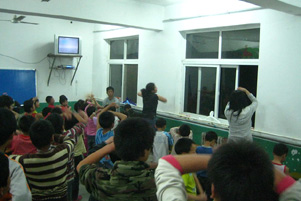 Authorities in China's Shanxi province forcibly removed all the children from a Christian-founded orphanage on August 26th and placed them in state care instead. The Bethany Home for Children with Disabilities was founded in 1997 and, over the years, has taken in and provided for more than 100 special needs children. Most of them were abandoned by their parents because of their disabilities.
In early August, officials unexpectedly visited the home and notified staff that the children would be transferred to a state-run orphanage based on alleged suspicions that the home was permitting the illegal adoption of children. Despite assurances to the contrary, all the children, along with some elderly residents in the facility, were taken away.
One source, Mr. Huang, explained that the authorities have been cracking down on all religiously operated homes for orphans in fear that personnel may teach religion to the children. For more information on the persecution of Christians in China, visit our country report.
Intercede for God's intervention in this troubling situation, especially on behalf of the special needs children and elderly who have been thrust into the midst of turmoil and uncertainty. Even though some of them are not able to understand the many changes they are now experiencing (location, daily routine, workers, etc.), may God's peace settle their anxious hearts. Pray also that the compassion demonstrated over the years through the caring staff will sustain these children into the future, and that religious organizations will have opportunities to continue expressing the love and goodness of the Lord to the people of China.