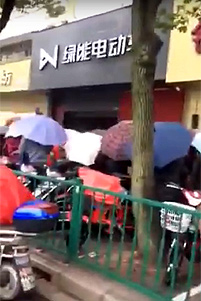 Government agents raided the Wheat Church in Shanghai during their Sunday worship service on December 1st. They accused those present of conducting religious activities in an illegal place and banned any future activities. In response to the government ban, church members gathered on the street outside their building the following week. While asking not to be identified, they have released a short video of them in worship (watch now).
According to Eric Foley, CEO of VOM Korea, Christians in China are responding to the increased persecution by seeking alternative ways to gather for worship. Rather than adhering to the modern "megachurch" model, they are returning to former ways of worshipping God -- a time when believers would meet wherever they could -- in homes, parks, even while walking. Eric Foley points to the need for resources to equip the leadership of these smaller group gatherings. For more information on the persecution facing Christians in China, and to review previously posted reports, go to our country report.
Please prayerfully remember the members of this congregation, and those of other churches, who have been forced to stop gathering together. May the Lord grant these believers wisdom and creativity as they seek ways to continue meeting for encouragement, training and worship. Praise God for His ongoing work within China in the midst of increasing persecution. Pray for His blessing on the efforts initiated by organizations like VOM Korea to get discipleship materials into the hands of Christians. Through these efforts, may the next generation of church leaders be effectively trained and equipped to proclaim the Gospel.