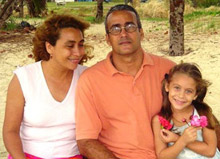 Pastor Carlos, his wife and his
daughter in an old family photo.
A formerly imprisoned Cuban pastor recently arrived in the United States as a political refugee along with his wife and daughters. In February 2006, Cuban authorities raided the home of Pastor Carlos Lamelas and arrested him on charges of aiding emigrants who sought to leave the country illegally. Pastor Carlos was later accused of being involved in human trafficking. Those acquainted with Pastor Carlos denied that he was ever involved in such activities and believed he was being targeted for opposing the Cuban regime on religious rights issues. Carlos suffered in prison without charges until he was suddenly given a conditional release in June 2006. He was later fined, however, on charges of "falsifying documents" (click here for more).
Unable to find employment and fearing another arrest, Carlos applied unsuccessfully for political asylum in 2010. In 2011, however, his case was reviewed and he and his family were granted status as political refugees. "For our part, we have been open to the will of God, and we know he will take us where we can best serve him," Pastor Carlos shared.
During Pastor Carlos's imprisonment, hundreds of Christians wrote him letters of encouragement, many through The Voice of the Martyrs' letter writing site, www.PrisonerAlert.com. "We know that many brothers and sisters have collaborated for our benefit; we're sorry not to know specifically who they are. Nevertheless, we want them to know that our love and gratitude is sealed in our hearts for the rest of our lives," said Pastor Carlos. To get involved in writing letters to prisoners of faith, visit www.PrisonerAlert.com. You can also download a free guide with pointers and prisoner addresses at our letter writing page.
Thank the Lord for the enduring faith of Pastor Carlos. Pray for provision for him and his family as they serve the Lord. Pray that Christians in Cuba will continue to confidently entrust themselves to Christ so that they can preach the gospel without hesitation (2 Timothy 1:7-12).
To learn more about persecution in Cuba, please visit the Cuba Country Report.