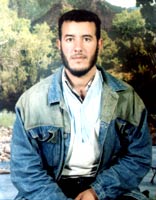 Rachid Muhammad Essaghir, one of the Christians found guilty
Photo from Compass Direct


In early June, Rachid Muhammad Essaghir and Djallal Dhamani were among four Christian converts from Islam given suspended sentences and fined by an Algerian court for seeking to convert Muslims to Christianity (click here here for more details). On July 2, the two were tried for a second time by a court in western Algeria and given six-month suspended sentences along with fines of 100,000-dinar (1,690 CAD) for "distributing documents to shake the faith of Muslims." They reportedly plan to appeal the sentence.
For more information on the increasing persecution of Christians in Algeria, go to the Algeria Country Report.