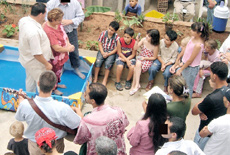 Algerian Christians continue to baptize new believers despite pressure from the government and local Muslims.
On May 22, the Governor of Bejaia informed the President of the Protestant Church of Algeria (EPA) that the seven churches in that province must close down because they do not comply with an ordinance from 2006 which regulates the exercise of religions other than Islam. The EPA churches cannot currently comply with these regulations because the Ministries of Interior and Religious Affairs have delayed responding to the EPA's application for registration. Without legal registration, the EPA cannot apply to register their churches as places of worship.
Please pray the order to close down the churches will be withdrawn and that this practice will not spread to other parts of the country. Pray the 2006 law will be repealed or the necessary procedures implemented to allow the EPA to register. Pray, too, that all officials involved will love mercy, act justly, learn about Jesus and choose to follow Him.
You can find out more about the persecuted Church in Algeria by visiting the Algeria Country Report.