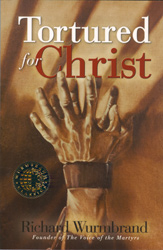 Reading the experiences of
Pastor Wurmbrand changed
Azad's view of persecution.
Click here
for this and
other resources.
An evangelist in Algeria has recommitted himself to the Lord after struggling for months following some persecution for his faith. "Azad" had been a believer for several years, but became discouraged after his father chased him out of his family home, and his wife's family threatened to take her away if he continued to evangelize. A few months later, his boss fired him.
Azad told a VOM worker, "I am so discouraged, and I feel hatred against God." He stopped reading his Bible or going to church. But one day, he asked a Christian friend for something to read. The Christian gave him "Tortured for Christ," a book written by VOM's founder Richard Wurmbrand about his experiences in prison. The book had a profound effect on Azad and he decided he could accept persecution for his faith. Azad understood something he couldn't see before: that he could accept the persecution he experienced as part of God's plan for his life.
Thank God for ministering to Azad during his time of need. Ask the Lord to continue to encourage and strengthen Azad as he shares the Good News with others. Pray that many more Christians in Algeria and around the world will put their trust in God, regardless of their circumstances.
Please visit the Algeria Country Report for more information on Algeria's persecuted Church.