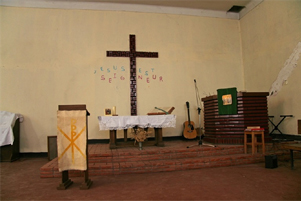 Algerian Christians request ongoing prayer as the government campaign to close churches continues. On October 17th, leaders of the church in Freha were summoned by police and informed that their building will be sealed.
In response to the escalating closures, Christians gathered on October 17th outside the Governorate building in Tizi Ouzou to express their concerns. In response, police violently arrested 97 people, injuring some of them. The believers were detained for four hours before being released.
With this latest closure, a total of 11 churches from the Protestant Church of Algeria have been sealed -- eight of these official closures having occurred since May 2019. For more details on the persecution of Christians in Algeria, go to the country report.
Continue to uphold the members of these sealed churches in your prayers, asking God to help them find ways in which they can gather peacefully for worship, encouragement and ministry. Despite the oppression they have been experiencing, may He make it possible for them to share His life-transforming truths and reach out in their communities with the compassion of Christ. Pray that the officers involved in the raids and other governing officials will witness God's 'amazing grace' being demonstrated through the lives of His faithful followers.