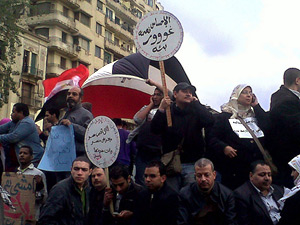 Pray for the safety of Egyptians
as violence increases in the nation.
Photo: Flickr / monasosh
Reports of attacks on Christians began to surface just hours after the Egyptian army announced that it had removed President Morsi from office on July 3rd, along with his Muslim Brotherhood cabinet. Angry over his removal from power, hard-line Muslims have attacked churches and Christian property. Al Eslah Church and St. George's Church in Delgia village of Minya province were attacked, as well as properties owned by Christians in the area. One minister narrowly escaped with his life when rioters set fire to his church. Thankfully, concerned Muslim neighbours hid him from the hostile mob.
Worst hit was Naga Hassan village, west of Luxor. Rioting on July 5th has resulted in the deaths of four believers and the destruction of dozens of homes. Police have reportedly asked Christians in the village to leave their homes until peace is restored. Church leaders in the Cairo area were also told to be on the lookout for cars with certain licence plates, due to the threat of car bombs.
Other Christian targets were attacked in Qena and Marsa Matrouh. The murder of a church leader in northern Sinai on July 6th is also being linked to reprisal attacks by Morsi's supporters. Mina Aboud Sharween was shot dead as he walked in the Masaeed area of El Arish. Since this report, there have been several other incidents of destruction, including the loss of innocent lives. To better understand what fellow believers are facing in Egypt, here is a brief video report on a recent church attack. (To assist persecuted Christians in this war-ravaged country, you may do so by designating to VOMC's Underground Church Fund.)
Pray that God will protect and sustain His people in Egypt amid the mounting unrest. May they be reassured by the reality of His presence while weathering this raging political and spiritual storm. Ask that through His mighty intervention, there will be an end to the violence that has engulfed the country and many of its innocent citizens. May a wise solution be granted to help steer the nation to a place of unity and peace.