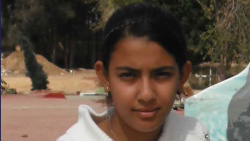 Pray for girls like Sarah who have been kidnapped
and forced to marry their captors.
Photo: AINA
One of the challenges facing Christian families, particularly in Upper Egypt, is the kidnapping of young Christian girls. It generally happens when the girls enter their teen years. To help avoid this tragedy, some families relocate to Christian villages. But that can present a whole new set of challenges.
Manel moved her family from a Muslim village to a Christian one near el Minya because she wanted to protect her eldest daughter Maryam from abduction and forced conversion. She made the decision after noticing some Muslim girls and boys attempting to lure Maryam away from her family and faith. Now residing as strangers in a new town, Manel's husband is having difficulty finding work.
This family is not alone. Last year, a Helsinki Commission hearing revealed that the number of disappearances and abductions of Christian girls has been increasing. Human trafficking expert Michel Clark told of more than 800 cases. Still, many Islamic leaders and government officials debunk claims that Christian girls are being trafficked. They insist that the conversions and marriages are not forced; they are simply the result of amorous love between young people of different faiths.
While the previous Mohammed Morsi government has done little to curtail the trafficking, the political change gives many Egyptian Christians hope. They pray the next government will force police to treat Christian kidnapping complaints seriously. (Previous reports can be found at the Egypt Country Report.)
Thankfully, much needed help is being provided by caring Christians during this time of uncertainty, bringing not only a glimmer of hope but also a new beginning in Egypt. Manel expresses her gratitude by saying, "May the Christians who helped us have a long life and may God be with them...."
Considering the upheaval that's taking place since the Morsi government has been forced to step down, it is important that we first pray for God's peace to reign in communities, as well as in individual hearts, so order can be established both socially and politically. As the new leadership attempts to take over, may the Lord work through these governmental authorities to bring about needed protection, justice, unity and religious freedom for the country's many innocent citizens, including fellow believers and their children.