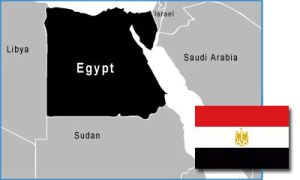 Christians in Egypt are requesting prayer after four fatal shooting incidents took place in the past few weeks and the discovery of an alarming video calling for further killings. On January 31st, Wa'el Youssef was shot dead by militants in front of his wife and son at his shop in the North Sinai town of al-Arish. Two weeks later, militants in the same town shot and killed two more Christians: Bahgat William and Adel Shawqi. A fourth Christian, Gamal Tawfiq, was shot and killed on February 16th.
Three days later, on February 19th, a video was published by members of ISIS, calling for Christians in Egypt to be killed. The video featured a recording of the suicide bomber who detonated inside a Cairo church on December 11th, 2016. As a result of this massive attack, a total of 29 innocent people were killed. (A previously published report on the church bombing is available here.)
One Christian resident told the local newspaper: "We have been leading very hard lives since the last four killings.... We can't leave because our livelihoods are here, our homes are here, and we have nowhere else to go. We keep on asking ourselves every day, 'Who's next?'"
Additional Note: We have since been informed by Middle East Concern that three more Egyptian Christians have lost their lives in targeted attacks. Saeed al-Hakim and his son Medhat were killed on February 23rd; and the following day, armed militants forced their way into the house of Kamal Youssef and shot him in front of his wife and children. After the most recent attack, more than 118 Christian families have left al-Arish in hopes of finding refuge in safer areas of Egypt.
Please pray that the Lord's ministering presence will be tangibly experienced by all whose loved ones were tragically killed in the past few weeks, as well as those who died due to the December suicide bombing. Ask for His protection to surround Egypt's remaining Christians and others who are being threatened by the militants, and for His wisdom to be granted as to how they should respond to the threats. Let us be mindful of the need to also intercede on behalf of the militants responsible for the attacks, that their hardened hearts will be touched by God's transforming love -- for how else will they experience His life-saving grace?