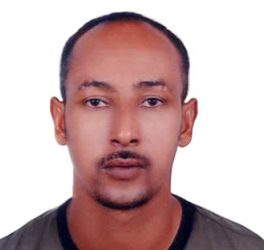 Mussie Eyob
After facing arrest several years ago, Mussie Eyob remains imprisoned because of his faith and desire to share the Good News with others. The Eritrean man became a Christian in 2008. Three years later, while living in Saudi Arabia, Mussie visited a local mosque where he spoke with attendants about Christianity. On February 12, 2011, he was arrested for preaching to Muslims and subsequently imprisoned.
Proselytizing is a capital offence in Saudi Arabia. Yet, following appeals from various human rights groups and individuals, the Saudi authorities decided to deport him instead of carrying out the death sentence. Therefore, he was deported back to Eritrea in November of 2011. However, about three weeks after Mussie arrived in his home country, the Christian man simply disappeared into the vast prison system where many pastors and evangelists have been detained incommunicado. For a long time, no one knew exactly where Mussie was being held and had any means of communicating with him.
Just recently, trusted sources have received news that Mussie is in fact a prisoner at Me'etr prison. Located in northwest Eritrea, this prison camp was opened in 2007 specifically to house Christians who had been arrested because of their faith. (Currently, there are believed to be approximately 89 prisoners at Me'etr.) At least two detained Eritrean believers -- Mogos Hagos Kiflom, 37, and Mehari Gebreneguse Asgedom, 42 -- had died in Me'etr during 2009. Thankfully, Mussie appears to be in reasonably good health and does his best to work hard at the prison labour camp on behalf of prisoners who are sick, elderly or physically weak.
As Mussie continues to suffer because of his great love for Jesus, pray that He will sense the Lord's abiding presence in his daily prison life. Ask that he and the other believers currently being detained at Me'etr be granted release so they can become joyfully reunited with their families. Until that time, may God grant Mussie continued health and strength so this faithful brother in Christ will be used mightily to both encourage the other prisoners and serve as an effective witness to the prison guards.
You may reach out to Mussie and his family members by writing them an encouraging note. However, we ask that you do not make mention of VOMC in your note, advance your political opinions, or state anything that could be considered insulting to the authorities. Please contact us, and our staff will then forward your letters to Eritrea. For more guidelines on writing prisoners, visit our website.