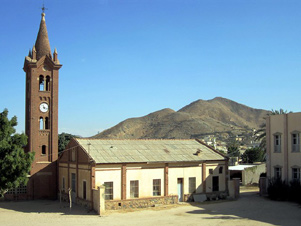 Security officers raided the Faith Missions Church in Eritrea's second largest city of Keren on June 23rd, confiscating property and arresting a number of those present -- including pregnant women and children. The church has been operating in the country since the early 1950s and seeking registration since 2002. However, the government has outlawed any religious practice not associated with either the Roman Catholic, Eritrean Orthodox or Evangelical Lutheran denominations, or Sunni Islam.
Even those groups registered with the government are not immune to prosecution. Authorities seized and closed 21 health facilities run by the Catholic church on June 12th, potentially risking the healthcare of thousands in rural areas. The next day, five Orthodox priests were also arrested. It is believed these actions result from recent calls for peace and reconciliation by church leaders.
In response to the current increase in oppression, Daniela Kravetz, UN Special Rapporteur on human rights in Eritrea, released a statement on June 21st, saying: "These actions show that, despite the improved regional climate for peace and security, the human rights situation in Eritrea remains unchanged." For more information on the persecution of Eritrean Christians, go to our country report.
Continue in prayer for our oppressed and imprisoned brothers and sisters in Eritrea, asking God to give them strength and peace in the midst of horrific conditions. Remember the children who so often suffer without understanding the reasons for the difficulties their families face. Lift up the leaders of the country and, in particular, President Afwerki. May they turn to faith in Christ and work towards upholding His statutes so the people can be governed with justice.