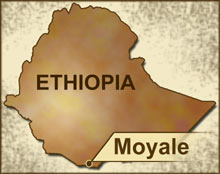 A Christian in Ethiopia's southern town of Moyale has been languishing in jail for two months after his Muslim business partner accused him of writing "Jesus is Lord" in a copy of the Qur'an. Tamirat Woldegorgis, who is in his early 30s and is a member of the Full Gospel Church, was arrested in early August after his partner in their clothes-making business discovered Tamirat had inscribed "Jesus is Lord" on some cloth. His Muslim co-worker, whose name has not been established, went to a nearby mosque with the accusation that Tamirat had written "Jesus is Lord" in the Qur'an itself. Angry sheikhs at the mosque subsequently had Tamirat arrested for desecrating the book sacred to Islam. Other sources have said, however, that Muslims accused Tamirat of writing "Jesus is Lord" on a piece of wood, on a minibus, and then on the wall of a house. A church leader who requested anonymity has stated that when two of Tamirat's friends enquired about him at the Moyale police station, they were jailed for two weeks.
In Ethiopia's federal state system, each state is autonomous in its administration, and most of those holding government positions in Somali Region Zone Five are Muslims. "We fear that our brother might be taken to Islamic court in Jijiga for trial, which will further threaten his life," the church leader said. Authorities are reportedly offering to release Tamirat if he will convert to Islam. Tamirat is physically weak but strong in his faith, the church leader said, adding that he needs food and other material assistance, as well as an attorney. (Source: Compass Direct)
Please pray for Tamirat's release from prison. Thank the Lord for his faithfulness. Pray that his material needs will be met. May the Lord use Tamirat to strengthen the faith of other believers in Ethiopia.
Go to the Ethiopia Country Report to learn more about the plight of believers in Ethiopia.