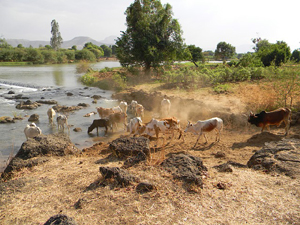 On July 16th, while alone in his home, an Ethiopian Christian was attacked by a group of local Muslim militants with machetes. As a result, the 27-year-old man suffered deep wounds to the back of his head and required life-saving surgery.
The man, who cannot be named for security reasons, was attacked in Hirna, a rural town about 400 kilometres east of the capital, Addis Ababa. The local clinic in his community referred him to a hospital in nearby Asebe Teferi. From there, he was sent to Adama where a doctor, believing the injured man could die en route to a larger hospital, immediately operated on his wounds. Although the victim is still unwell, the surgery stabilized him enough to be taken elsewhere for specialized treatment.
The militant group had first attacked the local Full Gospel Church, damaging its roof and a wall of the building before going to the man's house. Upon noticing he was engaged in an evangelistic activity, the militants became angry and proceeded to attack him.
This year alone, more than a hundred incidents of persecution have been recorded within these areas of Ethiopia involving attacks on people and businesses, imprisonment and murder. In addition, Christians have frequently faced other forms of harassment, including rejection by family members, deprivation of inheritance, and the denial of child custody rights. To learn more about persecution in Ethiopia, visit our country report.
Please petition this case before our Righteous Judge who is seated in heaven's throne room, asking God to help the victimized young man overcome the terrible ordeal he has endured due to the attack. Pray there will be no lasting physical injuries and that he will be granted the courage to continue sharing the Good News of the Gospel. Also intercede for those who have been blessed by his evangelistic efforts. May they not be fearful but rather spurred on to seek the truth of the Scriptures, faithfully serve the Lord, and walk in His love. Also pray that the authorities will ensure justice is upheld so the perpetrators will come to realize the error of their harmful ways and turn to the Lord for mercy and salvation.