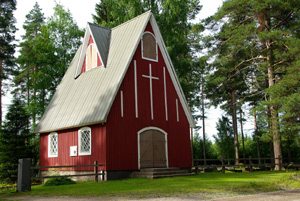 Over the past several months, churches in Finland have faced a surprising new experience as hundreds of Muslim immigrants arrived at their doors with questions about the Christian faith. Interest has been greatest among arrivals from Afghanistan, Iraq and Iran, reports Marja-Liisa Laihia, a specialist on immigrant issues for the Evangelical Lutheran Church.
Finland received almost 30,000 new Muslim immigrants during the widely reported influx of immigration into Europe in the fall of 2015. Since that time, one pastor who speaks Arabic as his mother tongue has baptized 18 Iraqi Muslims in the Helsinki area. He provides a baptismal course, which totals approximately 45 to 50 hours in length, and notes there are more people hoping to join the classes than he has the capacity to teach.
Due to the ravaging terror and upheaval caused by militant groups such as ISIS and Boko Haram, many Muslims are questioning Islam. Now that these immigrants are living in a foreign country where religious freedom is granted, they are able to learn more about Christianity. While some families may readily accept the conversion, others opt to disown the baptized member.
In a survey by the Christian newspaper, Uusi Tie (Finland), senior pastors were asked how many Muslim asylum seekers had been baptized among those who came to Finland in the fall of 2015. There were 128 responses and, within these churches, a total of 117 Muslims had been baptized. Although the survey focussed on the Lutheran church, for the purpose of comparison, 17 Pentecostal churches were also approached. Of the 13 churches that responded, a total of 108 Muslims had been baptized.
We rejoice over the fact that these Muslim immigrants feel free to accept Jesus Christ as their Saviour now that they are living in a new country. May they be effective witnesses to their family members and others who have not yet taken this step of faith. Intercede also for the many Christians who remain in countries where persecution is prevalent; mindful to pray for a safe passage on behalf of those who are even at this moment attempting to flee violent areas in search of refuge and religious freedom.