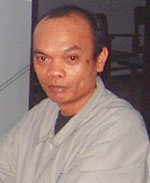 For the past two years, The Voice of the Martyrs has been following the case of Rev. Rinaldy Damanik, who was convicted on false weapons charges in 2002. Earlier this month, Rev. Damanik was transferred to Jakarta for emergency surgery, suffering from serious kidney problems (click here for details). On May 25, The Voice of the Martyrs received a report from Jubilee Campaign that, while in Jakarta, Damanik appears to have passed a kidney stone and has made a miraculous recovery, so that surgery appears to be no longer needed. He has been returned to prison in Palu where he is recuperating.
Praise God for this sudden recovery. Pray that he will return to complete physical strength. Pray for emotional and spiritual strength, as Damanik continues to serve time on these false charges.
For more information on persecution in Indonesia, click here.