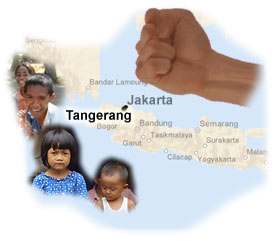 As approximately thirty children were gathered in a home in Curug, Indonesia in Sunday, November 27 to study the Bible, a mob of Islamic militants descended upon the home and caused the children to scatter in panic. According to VOMC sources in Indonesia, the militants destroyed guitars, a keyboard, an organ and a fan as well as several desks and chairs. They forced the teachers and children out of the house and then "sealed" it with posters denouncing the Sunday school. One of the teachers, Anton Neta, said that the Sunday school had agreed several months ago, under threat, to stop meeting in the home on January 1, 2006. They have been meeting there since 1992.
Uphold these children in your prayers. Ask the Lord to surround them with the quietness of heart that overcomes the fear they experienced during the attack. Pray that the leaders of the Sunday school will have clear direction from the Holy Spirit to know where they should meet next. Pray that what was lost through vandalism will be replaced and that the Sunday school will continue to reach young souls for Christ.
The Voice of the Martyrs has released a video report on the persecution of Christians in Indonesia entitled "Island Jihad." To view this video, go to https://www.vomcanada.com. For more information on persecution in Indonesia, click here.