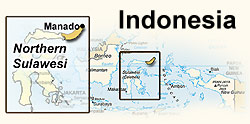 A pastor and his wife were murdered on April 25 in the predominately Christian city of Manado, North Sulawesi province, Indonesia. At approximately 7:00 a.m., two unidentified men approached the home of Frans Koagow and his wife, Femy Kumendong, and were told that Koagow was dining nearby. The men joined Koagow, ate with him and accompanied him back to his home. The assailants then used machetes to kill Koagow and Kumendong, who was in bed recovering from a stroke. Since the men did not steal anything from the believers' home, authorities have ruled out theft or extortion as possible motives.
Ask God to comfort grieving friends and family members. Pray that those guilty will know Christ's love, forgiveness and blessings through the lives of Christians (Romans 12:14, 21).
To find out more about the plight of Indonesian Christians, click here.