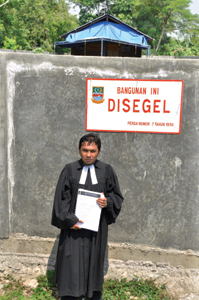 Pastor Palty's church was sealed shut
with this concrete wall. Behind Pastor Palty,
you can see a government closure notice.
Muslim protesters recently used loudspeakers and loud music to prevent a church from holding Sunday services in West Java, Indonesia. The Batak Society Christian Church of Philadelphia was forced to cancel its Sunday service after scores of protesters gathered to harass the believers. Reverend Palty Panjaitan said he tried to talk with the protesters, but police told him to cancel the service to prevent any violence. "By doing so, however, they violated our constitutional right," he adds. At a protest in May, the congregation was subjected to hate speech and death threats. This same church has been trying to get permission to build a worship facility in the district after submitting an application back in 2007 (to learn more, click here).
In a similar case of harassment involving GKI Yasmin Church, Indonesia's Interior Minister and local Bogor City authorities ordered this particular church to relocate to an undeveloped plot of land five miles from the established property they had already owned. Despite a 2011 Indonesian Supreme Court ruling that the church could reopen, local officials are ordering the church to move (for more information on the harassment of this congregation, click here).
Christian leaders say local governments across Indonesia are appeasing the predominantly Muslim population by putting complex and difficult requirements on churches to obtain building and occupancy permits.
Please pray that any barriers to worship will be removed for these dedicated Indonesian believers. May their determination and joy serve as a bold witness to the power of the one true God. Pray that God will work powerfully in the lives of those who persecute His Church in Indonesia, drawing them into relationship with Him.
Go to the Indonesia Country Report for more information on our suffering brothers and sisters in Indonesia.