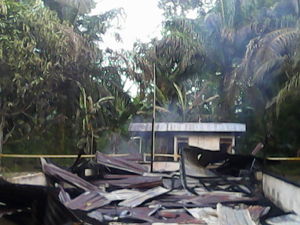 Damages from the fire.
Extremists demanding church closures clashed violently with Christians in Indonesia's Aceh province recently. Those instigating the forceful closures had reportedly burned down four churches in the southern part of the province, which is under the governance of Sharia law (Islamic law). One man was killed and four others were wounded during violent clashes at a church located within the Aceh Singkil district on October 13th, as Christians tried to defend their church against hundreds of armed militants. It is reported that the man shot in the head was a Christian, although police have yet to confirm his identity.
Tensions flared after a militant Islamic youth group demanded that the government demolish 21 churches in Aceh, claiming that they did not have appropriate permits. According to police, local officials had agreed to act but the aggressive hardliners "took matters into their own hands." In response to the incident, Indonesian President Joko Widodo appealed for calm and ordered officials to take firm action to "establish peace and religious harmony." To learn more about persecution in Indonesia, go to this page.
Please pray for our suffering Christian family in Indonesia, especially those facing rising tensions in the province of Aceh. Commit to the Lord the grieving family and those who've sustained injuries, asking that they be imbued with His strength, healing and comforting presence. May wisdom and courage be imparted to all of His people in this part of the world so they will be spurred on in their faith and equipped to serve as both peacemakers and promoters of religious tolerance. Thank you for also upholding President Widodo and his government as they work hard to build harmony among all the citizens of this troubled Southeastern Asian nation.