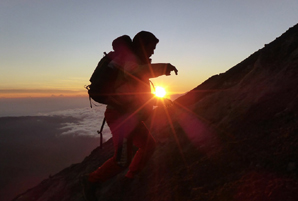 Born in a devout Muslim home, Jacob was required as a child to attend special Quran classes every evening. As the years passed by, he became further entrenched in his studies, and strictly observed the call to prayer five times a day. However, one night he had a powerful dream that altered the trajectory of his life. In the dream, a Man told him that he would be "a good servant one day." Although Jacob did not fully understand what this meant, his thoughts immediately turned to Christianity.
Impressed by the significance of the dream, Jacob began his fervent quest, searching for answers throughout his teen years. It wasn't until he reached college that things became clearer. During that time, Jacob met Pastor Simeon who began sharing from the "Book of God." With the pastor's guidance, Jacob began studying the Bible and discovered the joy of accepting Jesus as his Saviour.
Yet Jacob's decision to follow Christ didn't come without its share of opposition. When his friends learned of his newfound faith, they called him an apostate. Because of their adverse reaction, Jacob decided to keep his conversion to Christianity from his family, for he didn't want his parents rejecting him as well.
When his older brother found some Christian hymnbooks in Jacob's room one day, the truth became known. Despite his brother's attempts, which included physical aggression, Jacob remained resolute in his decision to follow Christ. No matter what was thrust at him, he refused to give up his faith.
Today, Jacob holds a bachelor's degree in education, and is currently teaching in a "madrasa" (an Arabic word meaning "educational institution"). Desiring to seize every opportunity, Jacob has chosen not to change his ID card to indicate that he is a Christian. Together, with Pastor Simeon and another Christian brother, Jacob will be expanding his evangelistic outreach by preaching the Gospel in Malaysia. May God's blessing continue to be upon Jacob as he ministers in these divinely appointed places, so that the truth of the Lord's goodness will become more widely known.