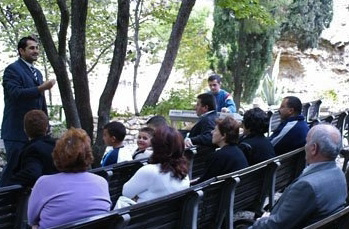 Pastor Steven Khoury preaching at the Garden Tomb in 2007.
Photo: Steven Khoury via Morning Star News


After seven years of harassment and attacks by hardline Muslims, the congregation of a Palestinian church was finally forced out of their building in the Shofat area of East Jerusalem in July. Their landlord was pressured by the Muslims to no longer allow the Christians to worship at the site. The congregation is now looking for a safer and more permanent place to meet. The church's pastor, Steven Khoury, expressed the difficulty he had when handing over the keys of the building: "It was very emotional because a lot of our people really started to grow there. Most of the growth happened in Shofat because of the persecution."
The opposition of the church, which is located in a predominantly Muslim area, started almost immediately after the congregation moved into the building in 2007. Prior to this, the believers had been forced to relocate two other times due to threats from militant Muslims. (To read a previous prayer report about another attack the church faced, click here.)
Please bring this congregation to our Lord in prayer, asking that He strengthen their hearts as they face another disappointing setback. May He soon provide them a safe location where they can worship together once more so their ministry won't suffer. In addition, pray that God will use the church members to impact the lives of the militant Muslims who have been opposing their Christian witness while, at the same time, encouraging others of the community who do not yet know Jesus to come to faith in Him. Please also pray for Pastor Steven and other leaders of this Palestinian church, asking God to grant them much wisdom and discernment as they lead their congregation amidst a hostile environment.