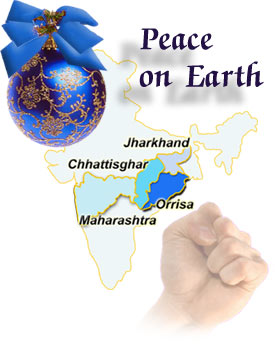 In four separate attacks on Christians over the Christmas weekend (December 22-24), Hindu militants arrested carol-singers and disrupted Christmas services as well as burned down and demolished two churches.
(a) According to a December 27 report from Compass Direct, a group of Hindu militants burned down a thatched church in Boriguma, Orissa state on December 23. Everything in the building, including the Christmas decorations, was destroyed in the fire.
(b) On December 24, a pastor and ten Christian missionaries were beaten and arrested by Hindu militants in Dhamtari, Chhattisgarh, according to a December 27 Compass Direct report. Hindu militants stormed into a church, where approximately twenty Christians were gathered, and beat some of the believers. They also destroyed hymnbooks and Bibles. Five Christians were injured, including a man who suffered hearing loss due to a blow to his head and a Bible student who fractured his hand.
Police arrested Pastor Ram and the missionaries on claims that they were bribing poor Hindu villagers into converting to Christianity. However, Arun Pannalal, the general secretary of the Chhattisgarh Christian Forum, told Compass that these charges were false and that the militants "were simply annoyed by [the Christians'] chanting of Christmas carols." Ram was released at 10:30 p.m. that night. The others were released at 6:30 p.m. on Christmas Day.
(c) Also on December 24, over 400 Christians in Tilonda, Maharashtra state were prevented from celebrating a Christmas prayer service when members of a militant group, Vanvasi Kalyan Praishad, barged into the prayer hall building. According to a December 27 Compass Direct report, militants shouted slogans against Christianity and drove the Christians from the building. The fearful church officials then cancelled the event. Police were present during the meeting, upon request of Dr. Abraham Mathai, the vice-chair of the Maharashtra State Minorities Commission, but they did nothing to stop the attacks.
(d) On December 25, Hindu militants demolished a Protestant church under construction in the Indian state of Jharkhand, according to December 28 report from The Indian Catholic. The church, which was being built on the private property Joseph Tuti, a member of the Brethren Mission Church, was pulled down by militant members of the Hindu organization Swadeshi Jagaran Manch, along with associated tribal groups. The village leaders have confiscated Tuti's land and will return it only if he agrees to abandon Christianity. "We would not allow them to use the land in any way if they continue to remain Christians," warned villager Vishnu Munda.
Ask God to give healing to those who were injured in the attacks. Pray that the members of the destroyed churches will know that, despite their loss of property, they have "better and lasting possessions" (Hebrews 10:36, 37). Pray those who seek to persecute will come to repentance and be reconciled to God.
For more information on the persecution of Christians in India, click here.