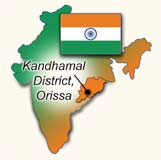 A 23-year-old Christian man, Gunjan Digal, was run over by a tractor and killed in Gungibadi village, Kandhamal district, Orissa, according to an April 1 report from AsiaNews. Police have claimed that the incident was an "accident." According to eyewitnesses, however, the driver of the tractor intentionally drove into Digal as he was walking on the side of the road. Digal's faith was well-known in the Hindu-majority area.
Pray that those in mourning will find strength, comfort and peace in Christ. Pray that God will continue to raise up cross-bearing disciples in Orissa who are willing to remain faithful to Him at all cost (1 Corinthians 4:9-14, 16).
To find out more about the persecution of Christians in India, click here.