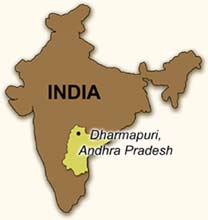 Pastor Prabhu Dass was arrested by police while attending a prayer meeting in a local Christian's home in the village of Dharmapuri, Karimnagar district, Andhra Pradesh on April 6, according to an April 9 report from All India Christian Council. During the prayer meeting, a man asked Pastor Dass for some Christian literature. When Pastor Dass gave it to him, the man left. He later returned with a group of villagers and they threatened the pastor and accused him of forcibly converting people. Pastor Dass was taken to the local police station where a complaint was filed against him. He was then detained in a local jail and remained imprisoned at last report.
Pray for the release of Pastor Dass. Pray that he and other suffering believers will find strength in Christ (2 Corinthians 1:3-5).
To learn more about India's suffering Christians, click here.