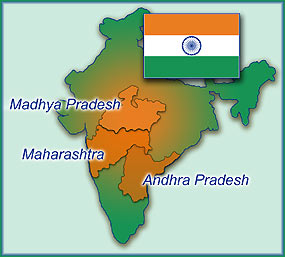 The Voice of the Martyrs received several reports of violence against Christians in India in recent weeks.
On May 5, Hindu militants attacked approximately 200 Christians gathered together for a meeting in Mumbai, the capital city of Maharashtra state, according to a May 6 report from the Evangelical Fellowship of India. The militants forcefully entered the building, blocked the exits and ordered the believers to chant "Jai Shri Ram" (Praise Lord Ram). Those who refused were beaten. Several were injured, including a 5-year-old girl and a pastor who required five stitches in his head.
A church building was set on fire by Hindu militants on the morning of May 5 in the village of Sivapuram, Warangal district, Andhra Pradesh state. Neighbours alerted the pastor and church members of the fire at approximately 2:00 a.m. By the time they arrived on scene, however, the furniture, pulpit, carpet and audio equipment had been destroyed.
On May 7, Hindu militants disrupted a prayer meeting held in a home in Narsinghpur district, Madhya Pradesh state, according to a May 11 report from the Evangelical Fellowship of India. The militants shouted abuses at believers present, accused them of forcible conversion and beat them. One believer suffered a broken arm. Five of the believers were arrested and taken to a police station. All were granted bail the next day.
Pray for peace in India. Pray for healing for injured believers. Ask God to strengthen Christians in India to continue to be salt and light in the midst of oppression.
For more on the persecution facing Christians in India, click here.