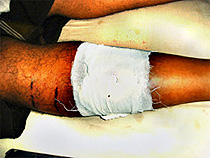 Pastor Ramesh Mandevey's injured arm
Photo from GCIC
On the afternoon of May 24, Pastor Ramesh Mandevey (31) was brutally attacked by 10 Hindu militants after visiting with a believer near the town of Dewas in Madhya Pradesh, India. A companion who was travelling with Pastor Mandevey was able to escape the assailants and later returned to bring the badly beaten pastor to the police station. At last report, Pastor Mandevey was in hospital with serious internal injuries.
Pray for healing for Pastor Mandevey. Pray for comfort for his family at this difficult time. Pray that those responsible for the continued violence against Christians in India will be brought to justice.
To find out more about the plight of Indian Christians, click here.