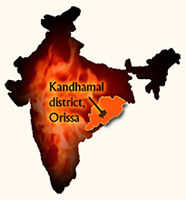 On May 30, Hindu militants set fire to six Christian homes in Kisapanga village in Kandhamal district, Orissa, according to a May 30 report from All India Christian Council. Approximately 2,500 of the tens of thousands of people displaced by the August 2008 mob violence (click here for more details) remain in relief camps and are fearful to return to their villages. The central government in India recently decided to withdraw paramilitary forces from the district within a month, triggering concern among Christians of further violence.
Ask God to strengthen Christians in Orissa to remain steadfast as they suffer. Pray that those facing difficult and dangerous living conditions will find strength and comfort in the refuge God provides (Psalm 127).
For more information on the persecution of Christians in India, go to the India Country Report.