As the one year anniversary of the unprecedented violence against Christians in Orissa state looms closer, believers throughout India are concerned of further attacks. In recent days, for example, believers in Karnataka state have faced intimidation and arrests from Hindu militants and police.
Approximately 20 Hindu militants shouting anti-Christian slogans barged into a worship service in the village of Gabbur on August 9. Pastor V. James (46) was beaten and dragged out of the building. He was able to escape his assailants and registered a complaint against them with police. At approximately 9:30 p.m., the militants attacked Pastor James at his home and chased him and his family out of the village. At last report, the family had not returned to their home.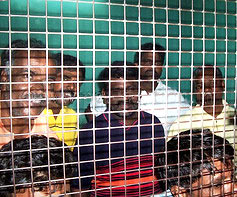 Pastors imprisoned in Annigere
Photo from GCIC
Just before midnight on August 11, approximately 80 Christians attending a training camp for teachers were attacked by Hindu militants in the village of Annigere. The four-day camp was organized by Seva Bharath Mission India, a Christian non-governmental organization. The militants accused the Christians of being involved in forcible conversion. They confiscated cell phones and Bibles and beat the pastors. Several young women were also assaulted. A pastor was able to escape and sought help from the police. According to Compass Direct, two police officers arrived on the scene at approximately 1:30 a.m., but merely watched on as Bibles were collected and set ablaze. The officers allegedly reported to the Sub-Inspector that the Christians were speaking derogatorily about Hindu gods. Three hours later, more officers arrived and demanded to know why the Christians had not requested permission to meet together. Astonishingly, eight pastors were arrested and charged with unlawful assembly, rioting, criminal conspiracy and "acts intended to outrage religious feelings by insulting religion or religious beliefs." The names and addresses of the other Christians were recorded by police before they were sent home. The detained pastors were released on bail on August 18.
On the evening of August 16, Pastor John Quadros was visiting a home in Padmanabhanagar, together with several other families, to pray for the host's sick father. Several Hindu militants, police officers and members of the local media burst into the home. The pastor was accused of forcible conversion, questioned and told to inform officials of any future prayer activities. The militants threatened to attack him if they heard of further prayer meetings.
Pray that increased persecution in India will result in increased boldness among Christians (Acts 4:29-31). Ask God to work in the hearts and lives of Hindu militants so that they will turn to Him.
To learn more about the persecution of Christians in India, please visit the India Country Report.