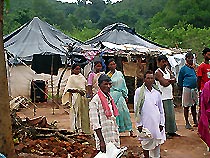 The Nandarigi relief camp,
which was recently visited by VOMC staff
A Christian relief camp in Nandarigi village, Orissa state -- where several families fled following the outbreak of anti-Christian violence in August 2008 (click here for the details) -- was bombed on September 27. Four Christians were seriously injured in the blast and the Hindu man that set off the bomb was killed. Five days earlier, the man had reportedly threatened Christians at the camp with violence, demanding that he be given food and shelter. He returned the night of the bombing and, in a heavily intoxicated state, physically assaulted two Christian boys and uttered more threats against the believers present. When the man slipped and fell, he accidentally detonated the bomb. Officials have claimed that Maoist militants were behind the attack but local Christians maintain that the bombing was planned and executed by Hindus.
Pray for healing for those injured. Pray that the displaced Christians will continue to look to the Lord as their enduring source of strength, provision and wisdom. Ask God to work in the hearts of Hindu militants targeting Christians so that they will repent and come to faith in Christ.
For more information on the persecution of Christians in India, click here.