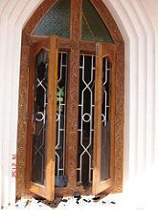 Window of the church in Sulur
Photo from GCIC
Three church buildings were attacked within two days in the southern Indian state of Tamil Nadu. On November 29, a bomb exploded at a church in Thammathukonam, badly damaging the building's wall. Later that day, a statue of St. Francis Xavier was desecrated by militants in Konamkade while the local congregation was preparing for an Advent procession. The next day, a group of Hindu militants broke the windows of a church building in Sulur and threw stones inside. A bag containing a container of petrol, a diesel can and cotton scraps was later found, suggesting that the attackers intended to set the building on fire.
Pray that Christians in Tamil Nadu will not give in to fear over these attacks but continue to be bold witnesses for Jesus. Pray that the perpetrators of this violence will be brought to justice.
Click here to find out more about how Christians suffer in India.