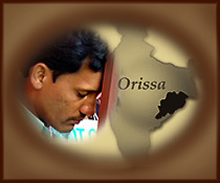 The Voice of the Martyrs in Canada is a member of the Religious Liberty Partnership (RLP), a collaborative effort of Christian organizations in over a dozen countries to raise awareness of religious liberty issues around the world. Two years after an outbreak of mob violence against Christians in Kandhamal district, Orissa state, India (click here to read more), the RLP remains deeply concerned for believers there and is requesting united prayer for justice, reconciliation and peace in the area.
The RLP urges you to remember our suffering brothers and sisters in Orissa by praying specifically for them this Christmas season. In particular, we encourage you to use the following prayer from Mgr. Raphael Cheenath, the Catholic Archbishop of Cuttack-Bhubaneswar in Orissa, in your churches on Christmas Day:
"Gracious Father, Lord of all the earth, we praise you for the gift of Jesus Christ, sent into the world to break down the dividing walls of hostility. Have mercy upon those in Orissa who are suffering. Give them the peace and the justice that they crave, and cause the walls of bitterness and hatred in Orissa to be torn down. Comfort those who have been bereaved, counsel those who have been traumatised, provide for those who have lost everything. Give them the grace to forgive and confidence in your gracious favour. Do not let us forget them, our brothers and sisters in Christ, as we celebrate the coming of the Prince of Peace and look forward to his coming again in glory."
For the full RLP report, "Orissa: A call to action and a call to prayer," please click here.
To find out more about the persecution of Christians in India, go to the India Country Report.