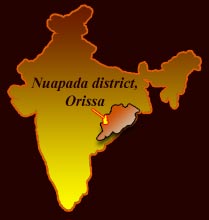 A young Christian man was recently beaten, tortured and forced to undergo a ceremony of reconversion to Hinduism in Nuapada district, Orissa, India. Six Hindu militants stormed 19-year-old Bhakta Bivar's home on June 8, intending to kill him and his parents, Neheru and Budhabari. Since Bhakta's parents were not home, they instead beat him and dragged him to the local Hindu temple where he was forcibly "re-converted" to Hinduism. The next day, police arrested five of the assailants, who were charged and then released.
The national president of the Global Council of Indian Christians has stated, "There are hidden interests behind the threats and violence against the Christian community in Orissa. Just as the community was slowly learning to live a normal life again after the 2008 pogroms, we get this kind of violence." (To find out more about the attacks in 2008, please click here.) (Source: AsiaNews)
Pray that Bhakta will not be fearful, but will turn to the Lord for his daily strength. Pray that the persecution he has faced will embolden him to be salt and light to his Hindu neighbours (Matthew 5:13-16). Ask God to bring healing and peace to India's Orissa state.
Go to the India Country Report to learn more about persecution in India.