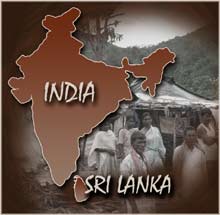 Two VOM staff members recently returned from India and Sri Lanka, where they met with partners and visited with persecuted Christians in need of prayer as they serve Christ amid great opposition. In India, reports of violence against believers, village churches being destroyed, and church leaders being threatened by local Hindus continue to be a daily reality. Converts to Christianity are often cast out of their families, denied inheritance rights and face poverty and ostracism. In Sri Lanka, Christians often face opposition from militant Buddhists intent on ridding the nation of Christianity. Churches have been burned, believers beaten and Christian leaders killed.
Pray for lasting fruit from the time VOM staff spent in India and Sri Lanka as projects are developed. Pray that the suffering believers they met with will look to the Lord for encouragement. Pray also that VOM will be effective in equipping Canadian Christians to understand the situation facing Christians in India and Sri Lanka and stand in solidarity with them.
You can learn more about the trials facing Christians in India by visiting the India Country Report. You can also stay informed about persecution facing Christians in Sri Lanka by visiting the Sri Lanka Country Report.