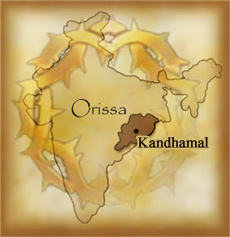 A pastor whose house was targeted by Hindu militants during anti-Christian mob violence in 2008 (read the story) was recently found dead in Kandhamal, Orissa state, India. Originally, police officials claimed Pastor Saul Pradhan, 45, froze to death, but his relatives suspected murder. Officials have since detained Marda Pradhan and Baiju Mallick, members of a radical Hindu group.
On the evening of January 10, two Hindu men came to Pastor Pradhan's house and asked him to come with them. When he failed to return the next day, his wife and a few villagers went to the house of one of the Hindu men. The man took them into the jungle but ran away after 30 minutes. Pradhan's wife and the other villagers found Pastor Pradhan's body lying near a pond. His pants were torn, his mouth was bloody, and his arms and legs looked twisted.
Despite the battered state of Pradhan's body, police claimed they had little reason to suspect foul play. The officials also claimed that there were no injury marks on Pastor Pradhan's body. They have refused to file a report of suspected murder and accused the pastor's family members of "spreading rumours about murder in hopes of receiving compensation from the government" for the August 2008 attacks in the region. At last report, an autopsy was performed, but its results have not been made public.
Thank the Lord for the life and faith of Pastor Pradhan. Ask God to fill his loved ones with a peace that surpasses understanding in the midst of their grief (Philippians 4:7). Pray the truth will come out in this situation and that true justice will reign. Pray those responsible for these heinous killings will be brought to justice and that they will come to faith in Christ.
To find out more about the suffering of Christians in India, visit the India Country Report.