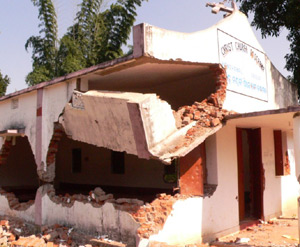 A church that was destroyed in the 2008 violence
Kartik Paramenika has been sentenced to life in prison for the murder of Ramesh Digal in Orissa, India. The conviction, which was handed down in March, is the first for any of the murders that occurred during widespread mob violence against Christians in Kandhamal, Orissa, in August and September of 2008 (for more, click here).
Kartik had led a mob to Petapanga village in 2008, where he killed Ramesh and burned down his home. Ramesh had worked as a cook in a school at which Kartik was headmaster. In addition to the life sentence for the murder, Kartik was also sentenced to five years for arson and was fined 5,000 rupees.
Convictions are difficult in India as witnesses are often threatened and harassed. Dr. John Dayal, a member of the Government of India's National Integration Council, said, "Justice remains the critical issue in Kandhamal where a combination of circumstances, including lacunae in investigations and coercion of witnesses, has resulted in a long series of acquittals. This conviction will help begin to rebuild faith in the judicial system. We must also congratulate the public prosecutor for securing this major success."
Please pray that more people responsible for the 2008 murders will be brought to justice. Please pray that witnesses to the crimes will be protected by the Lord and that their courage will not falter despite intimidation and threats of violence. Pray that those who perpetrated violence against believers will repent and seek forgiveness from Jesus. Ask God to help those affected by the 2008 attacks to forgive and love their attackers.
For more on persecution in India, go to the India Country Report.