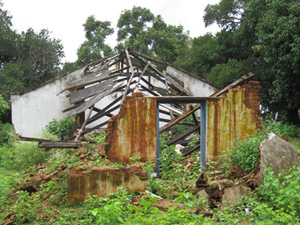 This church was destroyed by Hindu militants in August 2008.
After believers rescued a pastor in Odisha (formally called Orissa) state, India, who was brutally beaten on his way home from a prayer service, about 50 Hindu militants terrorized the 12 Christian families, beating them, looting their homes and attempting to rape some of the girls. Some of the attacked Christians remain unaccounted for and it is believed they have fled into the jungle.
Violence is not new to this area of India. In August 2008, Hindu militants launched attacks on Christians in Kandhamal district. The violence left dozens of Christians dead and thousands of homes and churches destroyed. Many more were forced to leave their homes (for more, click here).
A few days prior to the recent attacks on Christian families, local police seized more than 50 homemade bombs and 12 charges of dynamite hidden in a hut in the village of Gambhari in the district of Puri. Police believe the explosives would have been used in anti-Christian attacks.
Please pray that the injured pastor will fully recover from his attack and be empowered to continue to preach the gospel. Please pray that the Lord will protect believers throughout Odisha and guard their hearts with the peace that can only be found in Christ (Philippians 4:7). Pray that the Church in Odisha state will continue to grow.
For more on persecution in India, go to the India Country Report.