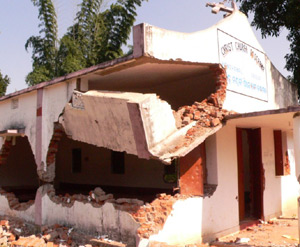 Christians and church buildings throughout
India have been attacked recently.
Christians were attacked in three different states in India on July 15.
In the village of Sainagara in Karnataka, Pastor Nathaniel Shubas of Immanuel Pentecostal Prayer Hall was beaten by more than 20 Hindu activists. The attackers beat and insulted him, dragging him for more than one kilometre to the Vidyanagara police station where they accused him forcing Hindus to convert to Christianity. The officers arrested the pastor and charged him with "deliberate and malicious acts intended to outrage religious feelings of any class by insulting its religion or religious beliefs."
In the second attack in the tribal village of Thavalpada in Maharashtra, about 50 Christians who were singing devotional songs were attacked by approximately 10 Hindus led by the local leader of the Bharatiya Janata Party, the Hindu ultra-nationalist party. Unlike in Karnataka, the police arrested the attackers.
In the third attack in Dabar Patli village in Haryana, Hindus demolished a church building under construction, arguing that most of the villagers were opposed to the building.
Please pray for a quick and complete healing for Pastor Nathanial. Pray that those who falsely accuse believers of forcible conversion will see that salvation is a free gift, not coercion, and respond in faith to Jesus Christ (Ephesians 2:8-9). Please pray that the church in Dabar Patli will be rebuilt and that its members will lead many to Christ. Pray that Christians in India will be representatives of Christ's love and grace to their persecutors.
For more on persecution in India, go to the India Country Report.