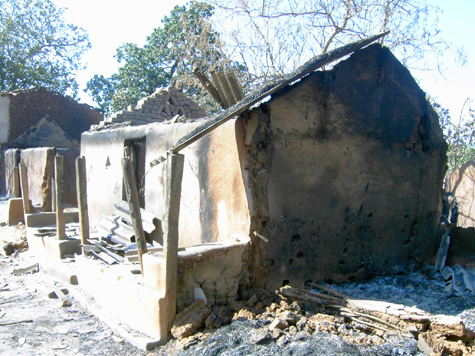 Damages from the 2008 violence
On November 27th, a total of 12 people were sentenced to six years' imprisonment for their involvement in the horrific communal violence committed against Christians in the Kandhamal district on August 25th of 2008. These violent acts included arson, rioting and the torching of houses in Jarkinaju village, attributing to about a hundred deaths and the displacement of more than 50,000 people. It is considered the worst single outbreak of anti-Christian violence in the history of post-independence India. For more on the status of Christians in this country, go to the India Country Report.
While it seems that justice is being meted out, the overwhelming majority of cases relating to the 2008 events have either been dismissed or resulted in acquittals, including many murder cases. Human rights defenders in the area are continuing in their vigil, pointing out significant flaws in the court's rulings. David Griffiths, South Asia Team Leader for CSW, concludes that this is important as the victims not only deserve justice, but also because "the rule of law is the essential foundation for peace."
On behalf of the many surviving victims of these terrible atrocities, may the "Prince of Peace" continue to bring healing, restoration and the hope of a brighter future; a future filled with His ongoing presence and provision as they rebuild their lives. And in accordance to Scripture, we must pray for their persecutors who are also greatly in need God's touch upon their lives. May they, too, be drawn to the "Light of Jesus" and, as a result, come to repentance...acknowledging their need of Jesus as Saviour before it's too late.