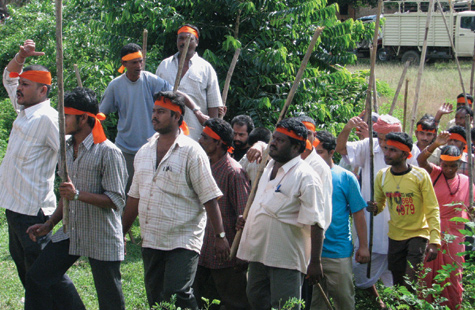 Pray that the perpetrators will come to know the Lord.
As a result of two recent attacks by Hindu extremists, more than 100 Christian villagers have been forced to flee from Tamsai (in Thane District of Maharashtra State) for "rejecting their tribal identity." Apparently, the Hindu nationalists involved in the attacks were angered that these converts to Christianity no longer practised their traditional tribal religions. Equally alarming is the fact that about 20 police officers failed to intervene, but rather passively stood by, prompting concern of anti-Christian bias being represented by the police force.
The first brutal assault took place on December 30th when the believers did not participate in a festival celebrating a tribal deity. Many of these victims fled from their homes after being beaten with wooden clubs. More recently, a large mob of extremists physically assaulted a group of Christians who met to worship in a private home. Prior to these attacks, local Christians were receiving unfair treatment from their neighbours by being denied access to water, firewood and their monthly supply of grains at the local ration shop. To learn more about the challenges experienced by fellow believers in India, check the India Country Report.
Pray that God's perfect love will drive out all fear from the hearts of these suffering tribal Christians. Ask Him to bring healing and comfort to them, especially after experiencing brutal attacks of persecution. May those in authority uphold and properly defend the religious rights of all citizens in this area, serving as a catalyst of peace between the different faith groups.