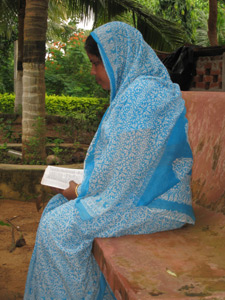 The open practice of Christianity
is now banned in Chhattisgarh, India.



A number of villages in Chhattisgarh State have outlawed the open practice of Christianity -- a move of questionable legality that church leaders say has already led to increased anti-Christian violence. "The situation is becoming worse," explains the president of the Chhattisgarh Christian Forum. "The anti-Christian propaganda is becoming stronger."
More than 50 villages have reportedly passed such anti-Christian resolutions. One resolution stated: "To stop the forced conversion by some outsider religious campaigners, and to prevent them from using derogatory language against Hindu deities and customs, the (Village Council) bans religious activities such as prayers, meetings and propaganda of non-Hindu religions."
According to a church leader in the area, poor Christian families in some of the affected villages have been denied access to village water sources and to government rations of staples such as wheat, rice and sugar. In one village, two Christians were ordered to leave or "suffer the consequences."
Chhattisgarh already requires residents to obtain government permission before changing religions, placing the state among the handful in India with laws restricting conversion. Religious freedom advocates often argue that the anti-conversion laws, which are meant to defend individuals from being forced to convert against their will are, in reality, being used as a means to restrict minorities.
Please lift up in prayer our brothers and sisters in Christ there in Chhattisgarh State, asking our Lord to encourage and embolden them during these days of trial. When they are pressured to recant or compromise their faith, pray that the Holy Spirit will provide them needed strength and, when necessary, the right words to speak (Luke 12:11-12). Pray that God will also grant much wisdom to their church leaders as they appeal these resolutions and seek to have them overturned. May those who oppose the Gospel in this state, and throughout India, come to know Jesus Christ as their Saviour.
To learn more about the opposition our Christian family in India is facing, visit our online Country Report.