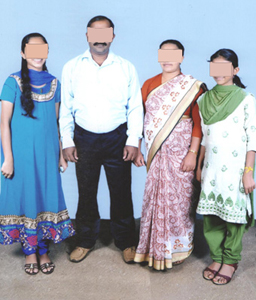 Kollol and his family
In the month of June, 15 radical Hindus attacked a Christian couple during a prayer meeting in their home. "Kollol" and his wife were beaten and then dragged to a Hindu temple where they were forced to undergo a ritual "cleansing." During the ritual, the Hindus poured water on them to symbolize outward cleansing and dabbed red powder on their foreheads to mark them as devout Hindus. When the assailants force-fed the couple with food sacrificed to idols, Kollol's two teenage daughters began to protest. The young women were then beaten as well, to the point that they and their parents all required treatment at a hospital. Community members later evicted the family from the village, threatening to kill them if they returned.
The attack against this family is just one incident in an ongoing trend of violence against Christians. Since late May, when the country's new prime minister was sworn in, there have been more than 600 attacks on minority Christians and Muslims. The new governing party, Bharatiya Janata Party (or BJP), is well known for espousing Hindu nationalism.
Please pray for "Kollol," his wife, and their two daughters, asking God to shield them from any further assault. May He heal their bodies as they recover from the ordeal, while also guarding their hearts from fear. Also pray for the perpetrators of this attack, that they may repent and come to accept Christ as their Saviour. Also lift up in prayer India's new governmental leaders, praying that God will use them to advance His good purposes in this country.
For more information on India's persecuted church, check out our online country report.