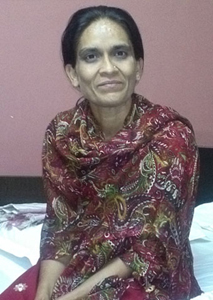 Christians in India are often accused and
jailed for allegedly "forcing" conversions.
Vani was jailed for several weeks after sharing
her Christian faith with a young runaway.
On December 28th, ten Christian workers and three young girls (under the age of six) were arrested in the central region of India and charged with "deliberate and malicious acts intended to hurt religious feelings." Hindu nationalists, who pressured police to arrest the Christians after a healing celebration, accused them of forcing conversions and insulting the gods and goddesses of the village. However, police have stated that they have no evidence of forced conversions. At last report, three of the Christians remain in prison while the others have been released on bail.
Meanwhile, the Parliamentary Affairs Minister, Venkaiah Naidu, recently proposed a ban on all religious conversions -- not just "forced" or "fraudulent" ones. Throughout last year's Advent season, religious minority groups -- including Christians and Muslims -- were targeted in a reconversion campaign led by several Hindu nationalist groups. These reconversion drives caused political and religious tempers to rise and produced much heated debate.
While thanking God for the Christians who have been freed from imprisonment, let us also pray that the remaining three believers will soon be released as well. May their unjust detention fail to hinder their efforts to share God's love, but instead spur them on to advance His Kingdom purposes throughout India. Please also pray that the Lord will strengthen the precious faith of the three young girls, encouraging their spiritual growth so they may be used mightily for His glory. Also remember to intercede for the Hindu nationalists who are striving to suppress religious freedom. May they, in response to God's holy conviction, also come to faith in His Son Jesus.
For more information on India's persecuted church, please visit our website.