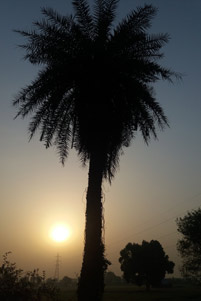 Police broke up a worship gathering of approximately 6,000 Christians on October 15th after Hindu militants accused the pastor of insulting other religions, possession of arms, and forcible conversions. According to Pastor Santosh Jaiswal, the congregation scattered when police arrived with demands that the service cease.
The officers investigating the allegations were unable to find any evidence against the pastor but ordered that Pastor Santosh stop the worship services. According to police, an eyewitness had seen people claiming to be healed and others lifting their hands in prayer, interpreting what was happening as black magic.
Along with charges against Pastor Santosh, his wife Kajal, sister, and other church members are facing similar allegations -- even though the open-air venue is located on land owned by the pastor's sister, and the village leadership has never been opposed to the gatherings. Church members have since encouraged him to go into hiding for his protection. To learn more on the various challenges encountered by Christians in India, go to this page.
Please lift up Pastor Santosh, his wife, and the other believers facing charges and other forms of persecution. May God work mightily in the lives of the church members, governing authorities, and even those opposed to Christianity. Pray for unhindered outreach opportunities and continued good relations with village leadership.