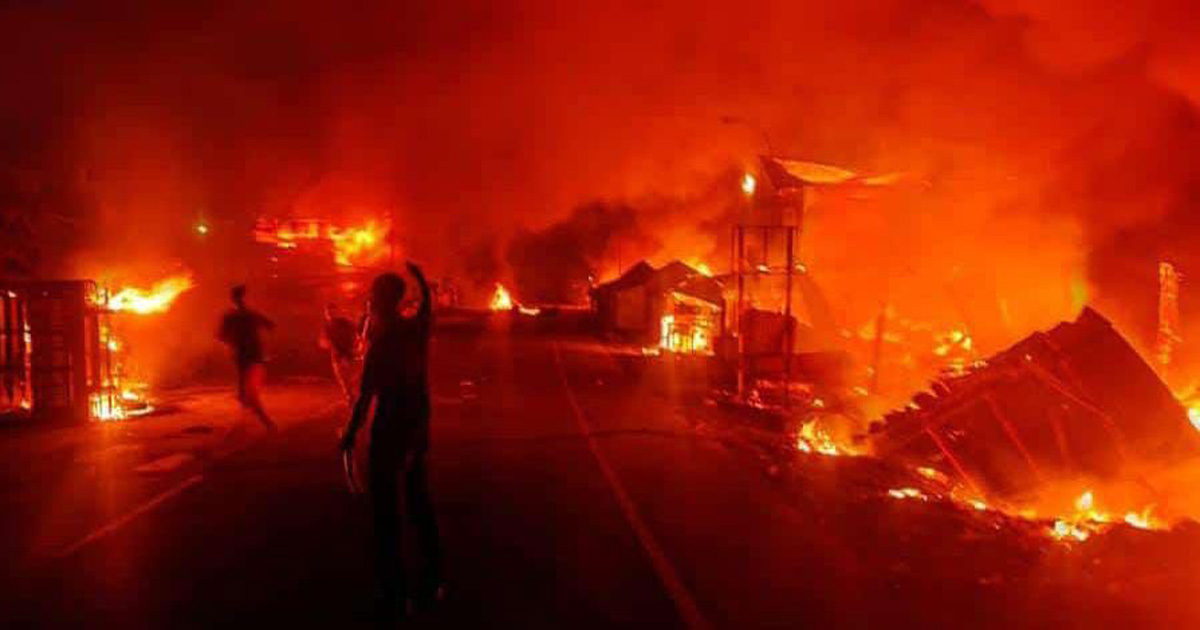 Ongoing ethnic tensions in the Indian state of Manipur ignited into a disturbing outbreak of violence after some took offence to a peaceful protest on May 3rd. During the resulting unrest, over 50 people had reportedly been killed, another 150 received injuries, and more than 50 church buildings were burned to the ground. At least 20,000 people have been forcibly displaced, many of them seeking protection in military camps. View one of the eyewitness videos of the ongoing destruction.
In Manipur, along with other rural areas of India, traditional peoples of the region are specified as "scheduled tribes." These groups are given the right to own land in areas that are restricted to others, along with additional benefits as a reparation for past injustices. The majority Meitei people in the state have objected to what they see as unfair treatment and are seeking to gain the "scheduled tribe" status – an action opposed by other groups, such as the Kuki and Zo people living in the hill country.
The Meitei people, who make up more than 50 percent of the state's population, are predominantly Hindu. Politically and economically, they are the dominant people group in the state. Yet, the tribal communities, in contrast, are largely Christian. Unfortunately, the state government, which is currently controlled by the Hindu nationalist party (BJP), seem to have taken an "anti-tribal agenda." Large portions of the hill country, where the tribal people live, have been designated as protected forest. As a result, villages have been razed and the inhabitants evicted from their lands.
A mass rally was held on May 3rd in the city of Churachandpur. Thousands of tribal people gathered to express their concerns about government policies as they relate to the scheduled tribes. While the demonstration was peaceful, some "Meitei thugs" arrived to cause problems. Violence grew and began to spread, resulting in scenes of horrific violence throughout the state. Church buildings, in particular, seem to have been a target, with more than 50 places of worship destroyed during the riot. In some cases, this anti-Christian element has crossed ethnic lines, leading to the destruction of some Meitei church buildings in the capital city of Imphal.
The Indian military has taken an active part in attempting to quell the violence. While skirmishes continue to break out across Manipur, the attacks thankfully became less widespread after the first week. Although tensions remain high throughout the state, some are seeing a "ray of hope." As the violence dissipates, however, the challenge of finding a lasting solution remains.
Christian leaders have been actively involved by urging their members not to retaliate, as communities have set up barricades in an attempt to repel the attacks. Violence and prejudice are often multifaceted, as various ethnic, religious, economic and political elements (among many others) serve to intensify division and hatred. Followers of Christ are called to set aside such divisions (Galatians 3:28), despite the pull towards a more visceral response.
Efforts to make India a solely Hindu nation have played a major part in the political agenda of the BJP – the ruling party in many areas of India, including Manipur. In a recent interview, Closer to the Fire podcast host Greg Musselman spoke with Ramchand Saranu and Sushil George about ongoing problems relating to the anti-conversion legislation that now exists in many Indian states. View this informative interview.
Please prayerfully remember the people of Manipur who have been caught up in this scene of unresolved violence. Pray for the healing of victims who were injured, as well as needed protection for those whose lives remain in danger. May God's peace fill the hearts and minds of all who have been affected by this complicated conflict, including those who have lost loved ones during the attacks. Additionally, pray that His Holy Spirit will work in the hearts of citizens throughout this Indian state, bringing about an atmosphere of acceptance and tolerance, as well as receptivity to the Gospel.